Own a Pre-Loved Machine
October 21st 2021

Here at Jenkins we've taken in some machinery that are now looking for a new caring home. They're longing for days in the sun, cutting grass, tootling around helping their new owners manage their gardens. They've had their holiday at the Jenkins Gardens Machinery Resort, being pampered and jet washed, lazing around the warehouse, telling stories of never ending fields that need cutting. However now they want to experience a loving home again. Please keep reading below to meet the saved machines.
Meet Barry – Alko T800
Just like the famous Lamborghini Barry is yellow. Unfortunately for Barry that is the only comparison to Lamborghini we can make for him, unless the new owner is willing to fit him with a turbo engine of course. He'd be a great addition for any owner looking to take of a lawn roughly 3500Meters squared. Below you can see him posing for the photoshoot, as you can see is raring for a new home!
Specs
*Barry has a 82cm/32″ cutting width and a cutting height of 30mm-90mm with 6 stages of adjustment.
*5 forward gears and 1 reverse
*Grass catcher with a capacity of 200Litres
*Dimensions are 190 x 104 x 112 cm.
If you are interested or would like more information regarding prices please give us a call on 01269 845 222, we're happy to help.
Wendy the Westwood S1500H
Wendy is flying the flag high for British Garden Tractors, showing off the famous Westwood red chassis and the giant grass collector! Ideal for gardens that are roughly one and half acres. A very reliable machine!
Specs
* Premium grade single cylinder engines
* Smooth foot controlled hydrostatic transmission
* Power take off to drive powered accessories
* Electric cutter engagement and electromagnetic blade clutch
* Easy cutter height adjustment
* Ergonomically designed seat
* Push button start and intuitive dashboard controls
* Lightweight ball bearing steering
* Briggs and Stratton Single cylinder engine 500cc
* Cutting deck = 36″/92cm
If you are interested or would like more information regarding prices please give us a call on 01269 845 222, we're happy to help.
Huscarvarna LT151- Garry the Grassbuster!
Garry is a petrol powered ride on tractor with a cutting width of 97cm, it'll have your garden mowed in no time at all! It also has a powerful vacuum grass collecting system meaning your lawn will be left in pristine condition.  Suitable for lawns that are roughly 1.5 acres. It has 6 forward gears and 1 reverse gear. If you would like more details please give us a call 01269 845 222 or give our live chat try!
Specs!
* Six forward gears & one reverse
* Kohler gasoline engine 15hp
* Cutting height = 3.8cm – 10.2cm
* 6 cutting length options
Mandy the Mountfield 1436H
Mandy is in top condition featuring a 92cm cutting width. Mountfield is a name that has demonstrated confidence and reliability to thousands of users throughout the garden machinery industry. Suitable for gardens up to two acres.
specs
•Mountfield 13.5 HP engine.
•Electric key start
•Hydrostatic transmission
•Electro magnetic clutch cutter deck engagement
•Cutting heights from 25mm to 80mm
•Seven position cutting height adjustment
•260 litre capacity grass collector
Walk Behind Second Hands!
Alko- highline 476spi
Chic and comfortable, this is how the Highline 476 SPI from AL-KO presents itself. Developed in Germany and manufactured in Austria, this lawn mower offers the highest quality. The modern design makes it an eye-catcher in every garden. Quality components and materials increase the longevity of the petrol lawnmower. Mowing the lawn is a pleasure with the "Highline" lawnmowers.
specs
*Cutting width 46cm 18″
*Single Speed Wheel Drive
*Electric key start engine
*Ergonomically shaped handle bar
*XXL wheels for easy pushing
*Comfortable and simple cutting height adjustment
Webb Roller Walk behind  WERR17
The Webb Werr17 is a self-propelled petrol lawn mower with a cutting width of 43cm and a six step cutting height adjustment of 10-77mm. It has a grass bag capacity of 60L and a quick release foldable handle for compact storage. It has a split rear roller for a striped lawn finish and offers a 3-in-1 feature of either cut and collect, cut and discharge or cut and mulch.
The Webb WERR17 is a highly versatile petrol lawn mower that delivered a very even cut on long, short and slightly damp grass. A visible stripe was even left on the lawn thanks to the rear roller. It also has a spacious grass collector capacity which makes it suitable for medium or large lawns. It is easy to adjust the cutting height depending on how close a cut you want, and the foldable handles make it compact for storage.
Honda HRB 475
honda hrb 475 rotary petrol lawnmower. 18.5 inch wide cut fitted with a honda 160 cc gcv160 5 horse power engine. robust polypropylene deck / chassis. suitable for medium and large size lawn's. convenient single point multi height adjustment.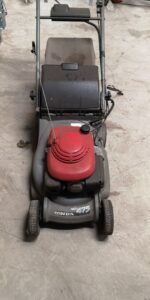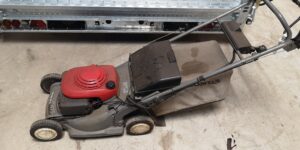 If you are interested in any of machinery please give us a call on 01269 845 222 or try our live chat function!