Parts finder form!
ONLINE PARTS FINDER!
Finding the part number for lawn mower parts can be daunting and very tricky! This is why Jenkins provide Lawn mower parts finder service!. All we need is the model and serial number and we'll identify what part you need for your machine! Give it a try below! Although it's called a Lawn mower parts finder, we can also get parts for all sorts of garden machinery!
What we need to know
We'll need to know the manufacture/name of the machine e.g. Echo, At-co etc.
We'll need to know the Model of the machine also
We'll also need the serial number, this is important as different serial numbers will have used different parts when manufactured. The reason for this is availability of parts when they were manufactured. Serial number can be a little tricky to find, but this little handy drawing shows where the most likely places are.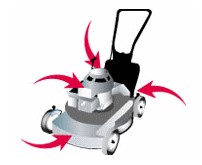 An article number would also be a huge bonus in helping us track down the part. *Not applicable on some brands*
For Engine Parts
We'll need to know at least the Engine make & Engine serial number. Handy guide here to find your engine serial number
For Carburettor Parts
We will need to know the model and make of machine and also the details of the engine. Also as much information from the carburettor as possible.
Give us a try
If you do not have the information to hand, put N/A in the field and we'll try our best to help with locating the part.
We cannot guarantee that we will find the part you looking for, but by providing as much detail as possible helps us source the part you need.
Thank you
Whilst your machine is down, why not look at some of our products in our shop