MEET THE EGO BRAND!
Ego Garden Machinery!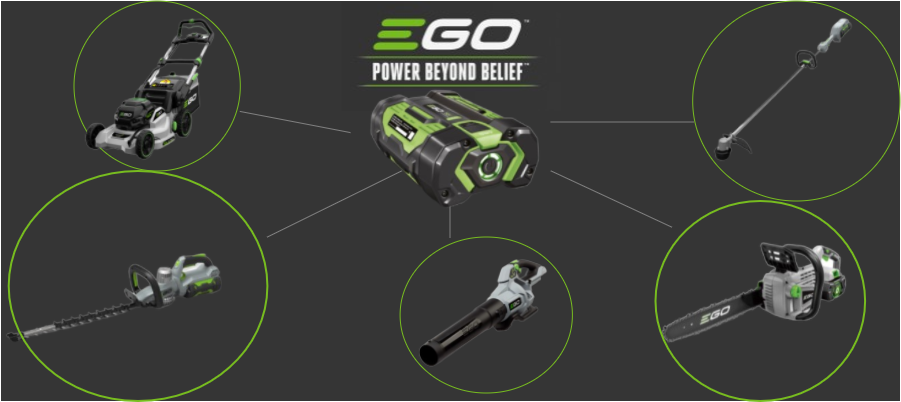 CORDLESS POWER BEYOND BELIEF FOR GARDEN MACHINERY
MEET THE EGO BRAND! EGO brings you the first line of cordless garden machinery, matching the power & performance of petrol without the noise.  They have spent the last 10 years researching, developing and perfecting our industry-leading cordless range with a clear goal of converting petrol users and cable users to EGO.
EGO significantly changes the nature of lawn and garden equipment undoubtfully ground breaking research, powered by the industry's first 56-Volt Lithium Ion battery. Hence this allows EGO to deliver a new level of li-ion cordless battery performance. EGO batteries last longer and 100% charge is achieved in just 30 minutes. Cleary showing that the tools are intuitive, quiet and dependable and provides all the power you need to get the job done right.
The technology used in the EGO Power+ system breaks the mold. It begins with the industry's first 56-Volt Lithium-Ion powered battery. Unlike other battery packs, which are shaped like bricks and retain heat, ours follows a patented "arc" design. Inside, they developed the most advanced software management system ever created in a home lawn and garden product.  Their proprietary "Keep Cool" cell technology works with each battery cell to maintain long-term power and unmatched performance.  Shown in the power of their machinery! The EGO Power+ system also boasts a revolutionary charging system, because of this as a depleted battery will recharge in 30 minutes. Another first in the lawn and garden world. Power beyond belief starts with better technology. That's what puts EGO's power, performance and durability on whole new level.
Innovation. It's not just about the big idea. It's about the work you put in. The details. And pushing forward until you've created something unlike anything that has come before it. That's EGO. That's power beyond belief!
"EGO's 56V ARC Lithium™ battery delivers the industry's highest energy capacity – a new level of performance. It gives you dependable power to get the job done, while solving the problems of running costs, fossil fuel emissions and vibration."
THE EGO POWER+ SYSTEM
Let's start talking about our petrol beating performance. Evidently the EGO Power+ 56V Arc Lithium™ battery has an innovative design to maximise battery cooling. In addition it's cleaner, quieter and safer for the environment, with no emissions and less vibration. Therefore reasons it is safer for you too. All our 56V ARC Lithium™ batteries are interchangeable across the entire EGO cordless range – for this reason there's a battery for every tool and every job. As the batteries go up in size, so does the power capacity and run time.
Browse through the range below! Any questions or queries please drop us a call or try our live chat and we'll help as best as we can!
| | | |
| --- | --- | --- |
| Lawnmowers EGO | Chainsaws EGO | Hedgecutters EGO |
|  Strimmers & Brushcutters EGO | Leaf blowers Ego | Multi-Tool Ego |
We've also  found a handy FAQ page that may answer some of the burning questions you have! Follow this link to find all the Frequently asked questions on the Ego Product range!